Translate NuwaubianFacts.com to 26 Different Language. Choose Your Language Below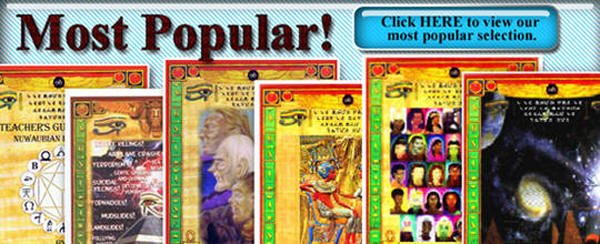 Dr. Malachi Z. York
Ques: Why is the government still holding Dr. Malachi Z York-EL with these FACTS from there lead witness?
Ans: Because, Abigail recantment proves the government targeted Dr. Malachi Z York-EL and the pretrial transcripts backs her testimony, No EVIDENCE, Agents didn't audio tape or video tape the alleged victims statements and more. (Government Conspiracy)
What happens when Black people can no longer recognize white racism? [read moor]
Dr. Malachi Z York-El caring ways
This is a Government Conspiracy, Here is Some Proof
These documents is coming from May 14 2002 Bond Hearing just a couple of days from the arrest of Dr. Malachi Z York-El and shows that the FBI and the Putnam County Sheriffs was making a case with Hear-Say information and not the FACTS.
It seem like the federal government used the most inexperienced staff in the interviewing of the children or the agents that knew how to coerce you into telling them what they wanted YOU the ALLEGED VICTIM to say, read some of this court proceedings.
keep in mind the only children in this case was the ones that the government took out of the Nuwaubians Village and questioned these children with more than one agent that in it self would scare these children, no familiar faces, like parents, friends, doctors, no one they saw before. These children still said they were never molested.
QUES: Guest what happened when they could not coerce these children ?
ANS: They place these children in the custody of strangers that treated these children like they committed a crime, real bad treatment,
Why? FOR TELLING THE TRUTH
NO PARENTS PRESENT

NO ATTORNEY PRESENT

NO AGENT FROM CHILD SERVICES PRESENT

NO MEDICAL AGENCY

JUST FBI AGENTS AND PUTNAM COUNTY SHERIFFS

THESE CHILDREN WAS MENTALLY TORTURED

JUST BEING QUESTIONED ABOUT SOMETHING THAT DIDN'T HAPPEN
QUES: WHAT WOULD YOU DO ?
THE GOVERNMENT ACCORDING TO JULAINE WARD IS OPPOSED TO VIDEO TAPING OR TAPING INTERVIEWS, THIS IS THE GOVERNMENT SETTING UP
CHIEF BLACK EAGLE (MALACHI Z YORK-EL)
QUES: WAS MS. WARD TELLING THE TRUTH ON THE STAND UNDER OATH?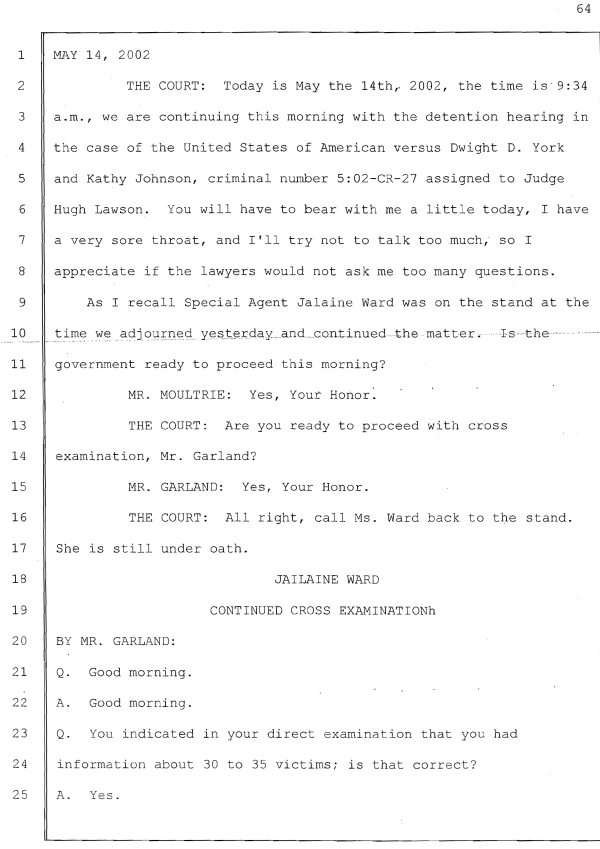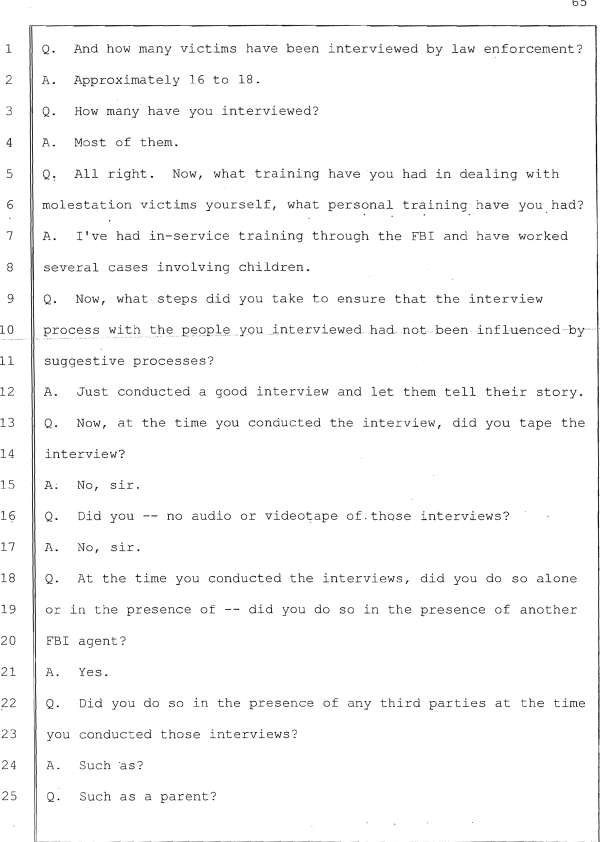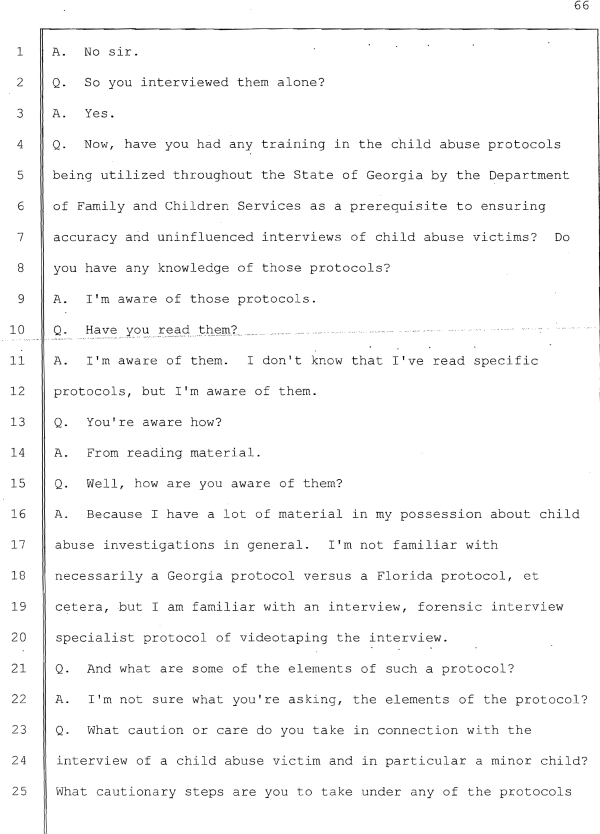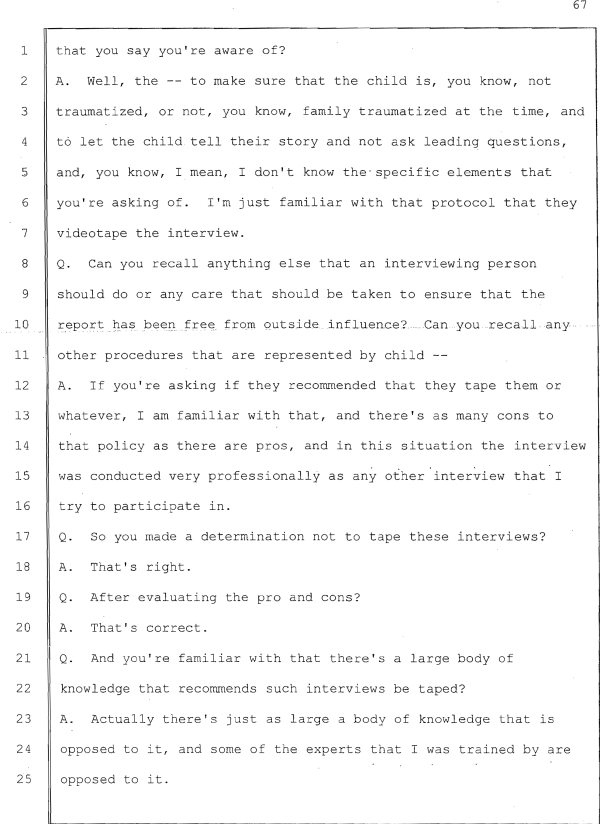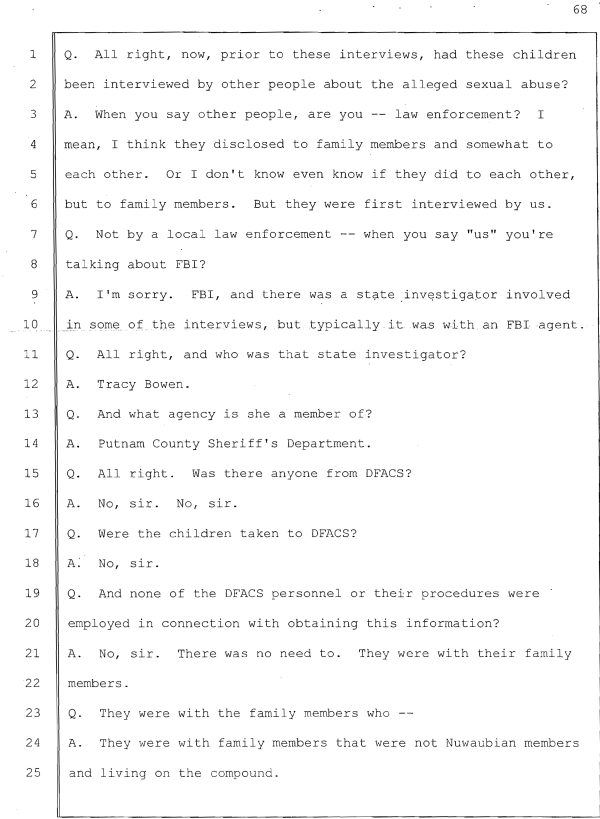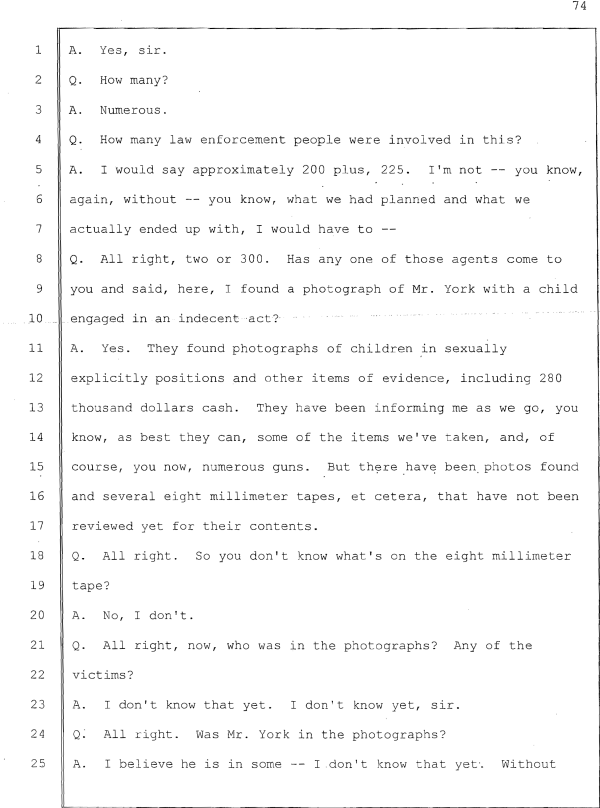 This a joke, this government agent is showing the government's conspiracy to convict Dr. Malachi Z York-EL in line 23 and 25 clearly shows that they didn't have any proof that Dr. York was in any pictures and that the alleged victims in their interviews with this same agent didn't produce any proof via; pictures or video tape or audio tapes, because she would have present them as evidence, where is the government's reasoning for the arrest, only hear-say, these are the facts.